About the Program
Education in the United States is an inherently local endeavor, and computer science (CS) education must rely on local actors and decision-makers in order to reach every learner. Building on insights from our successful programs serving school districts (via SCRIPT) and communities (EcoSystemsforCS), CSforALL is embarking on a new strategic initiative focused on accelerating high-need communities in their progress towards fundamental standards-aligned CS education for all learners, and increased access to interest-driven CS learning opportunities. The CSforALL Accelerator Program will impact up to 10 communities per cohort, with an intended reach of 2.5 million of our nation's youth who currently lack access to equitable CS education by the end of five years.
CSforALL is committed to locally-driven, sustainable, and equitable implementations of computer science education pathways in K-12 learning. During the course of the program, participating communities will engage in local advocacy and capacity-building activities that result in the following milestones:
A backbone organization that will coordinate community efforts.
Data systems measuring implementation and participation of youth in CS education programs, both in and out of the formal education system.
A plan and framework for formal education systems to implement standards-complete CS education pathways in K-12 that serve all students.
A plan and framework for out-of-school time programs and formal education to provide a variety of activities for learners in various age groups to participate in opportunities containing additional interest-driven CS education.
Increased access and participation by learners, especially Black, Hispanic, and Indigenous learners in computer science education pathways and interest-driven deep learning opportunities.
Inaugural Cohort (2022-2024)
The first cohort of the Accelerator Program includes the following communities:
Denver, Colorado
Detroit, Michigan
Duluth, Minnesota
Miami, Florida
Nashville, Tennessee
Washington, D.C.
Media Coverage
Announcements
CSforALL Accelerator Program Press Release: CSforALL announces a new program, the Accelerator, and the first cohort of six communities to progress toward fundamental standards-aligned CS education for all learners
Articles
09/25/2022
Citizen Tribune
Tech Participating in CSforALL Accelerator Program
09/06/2022
EIN Presswire
Miami Selected to Participate in Community-Led Education Initiative Aimed at Increasing Computer Science Opportunities
06/30/2022
Business Wire
Crusoe Energy Systems Announces Participation in Program to Expand Equitable Computer Science Education
Partners and Sponsors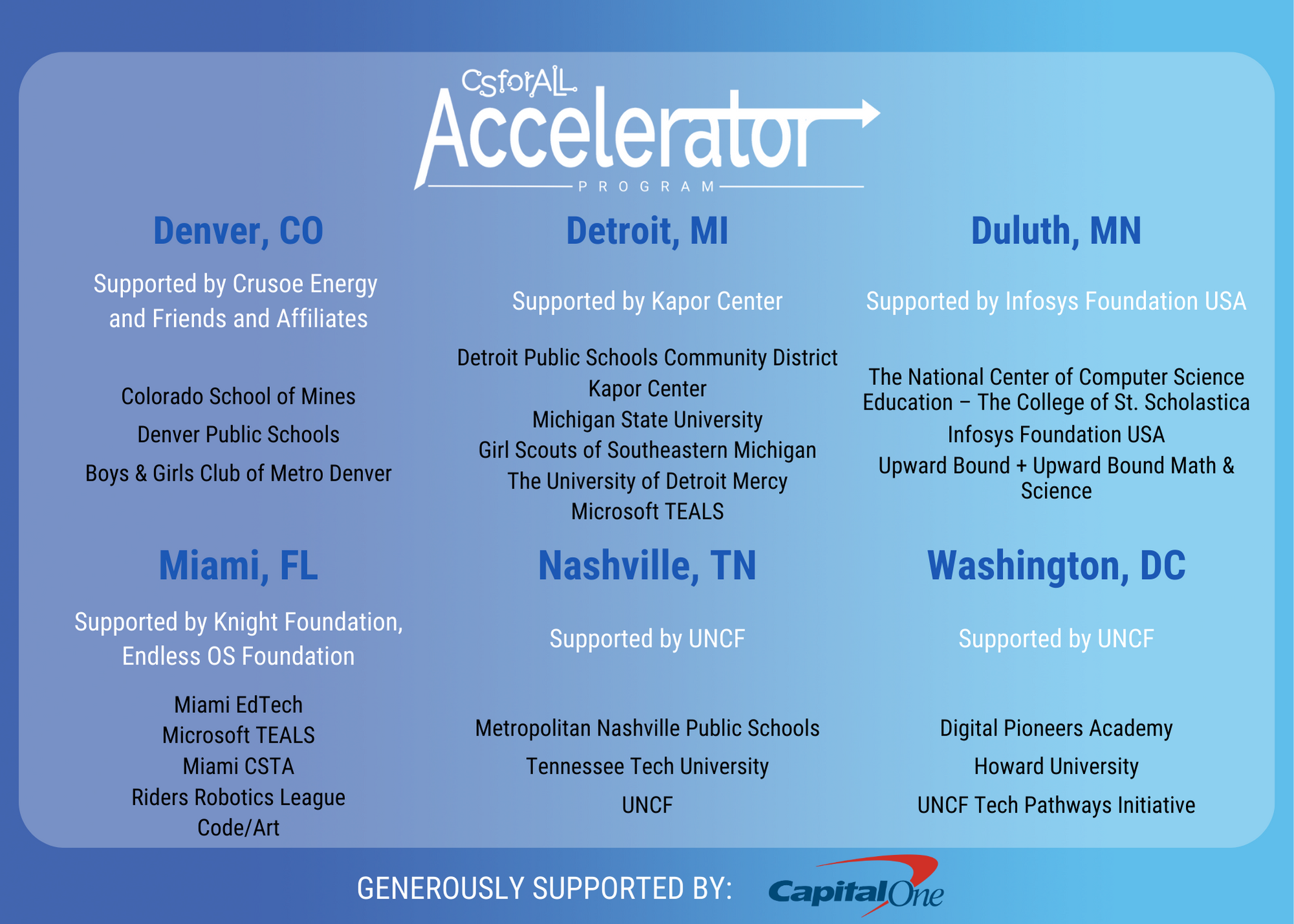 Contact Information
For more information or other inquiries, please email CSforALL's Project Director, Accelerator Program, Bernell Murray.