What is an Ecosystem for CS Education?
A dynamic community of individuals, organizations, and resources coming together to ensure equitable access to high-quality CS education for all students.
EcoSystemsforCS is a CSforALL initiative with support from Schmidt Futures to catalyze communities across the US in creating community-led systems change in K-12 computer science education. Ten communities are receiving funding and technical assistance to engage a diverse set of partners in developing a strategic plan focused on supporting a community-driven ecosystem to drive implementation of high quality, equitable CS.
The 10 awardees from the current cohort are:
Central Washington CS Alliance (Wenatchee & Yakima, Washington)
Central2CS, (Worthington, OH)
CS4ALL Miami powered by Miami EdTech (Miami, FL)
CSforCHI (Chicago, Illinois)
CSforOK (Tulsa, Oklahoma)
CSforRGV (Mission, Texas)
CSMN-Southeast (St. Paul, Minnesota)
Gateway to Computer Science (Richmond, Virginia)
Girls Code 205 in Birmingham (Birmingham, Alabama)
New MexiCodes (Santa Fe, New Mexico)
Learn More About the Program:
Cohort Fact Sheet - Read more about the cohort and their profiles here
Design Thinking Strategic Planning Process
The 10 Ecosystems are participating in a series of virtual workshops learning and practicing the design thinking process and mindset, a human-centered approach to creative problem-solving. Design Thinking centers around a deep interest in developing an understanding of the people for whom we're designing for and in this case, a strategic plan for CS education. It helps us understand and develop empathy with the intended audience, question and more clearly articulate our assumptions, discover new ideas, prototype and experiment possible solutions, and test new solutions.
For all inquiries email to ecosystemforcs@csforall.org.
Gallery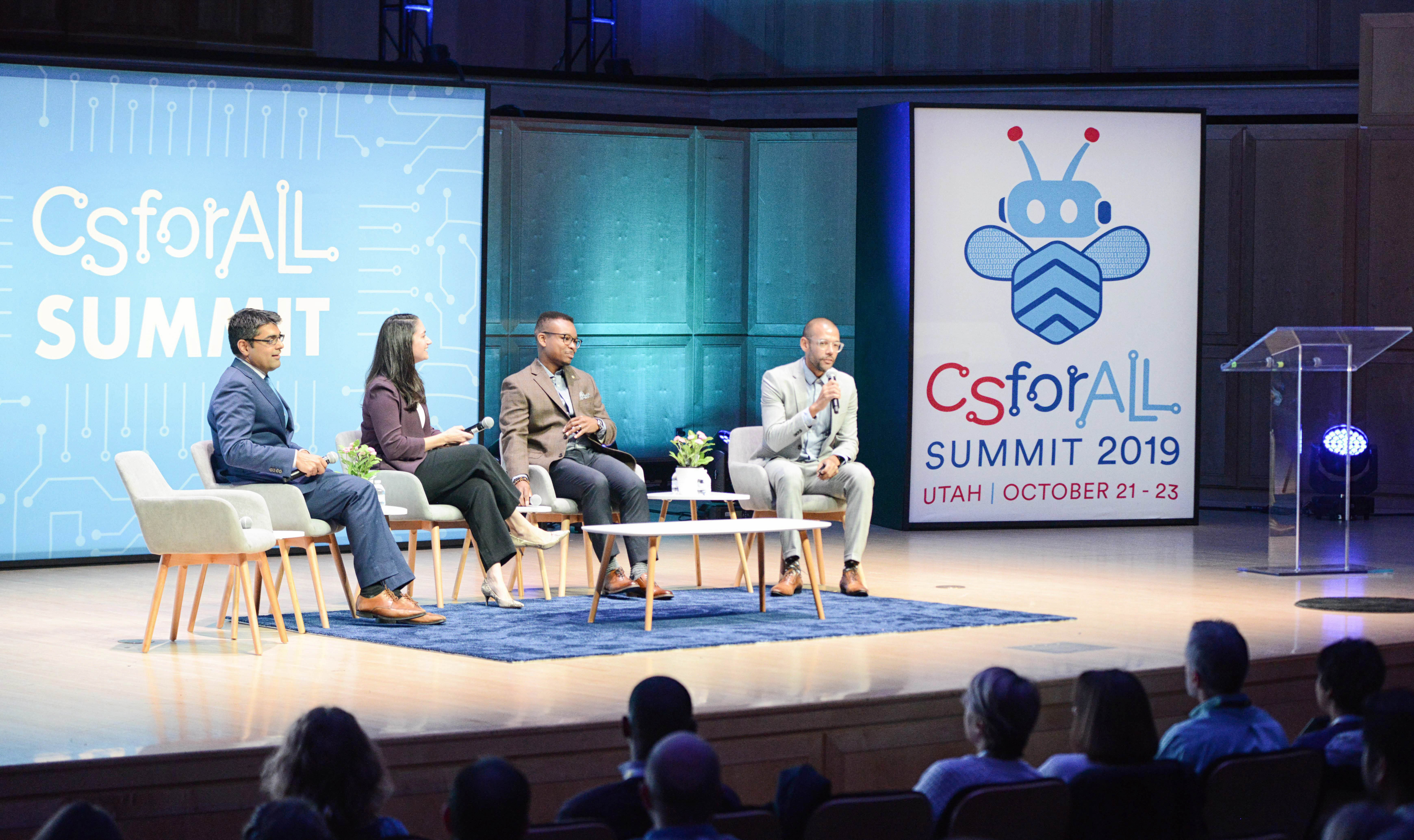 photo credit: Christopher Carruth

Schmidt Futures is a philanthropic initiative, founded by Eric and Wendy Schmidt, that bets early on people who will make our world better — helping people to achieve more for others by applying advanced science and technology thoughtfully and by working together across fields.
Learn more at schmidtfutures.com
Media Coverage
Launch of the first cohort of EcosystemsforCS at Summit 2019, Salt Lake City, Utah
Photos | Livestream | Press Release
Virtual Workshop Series on Strategic Design Thinking for Cohort from April to June
Photos | Medium Post