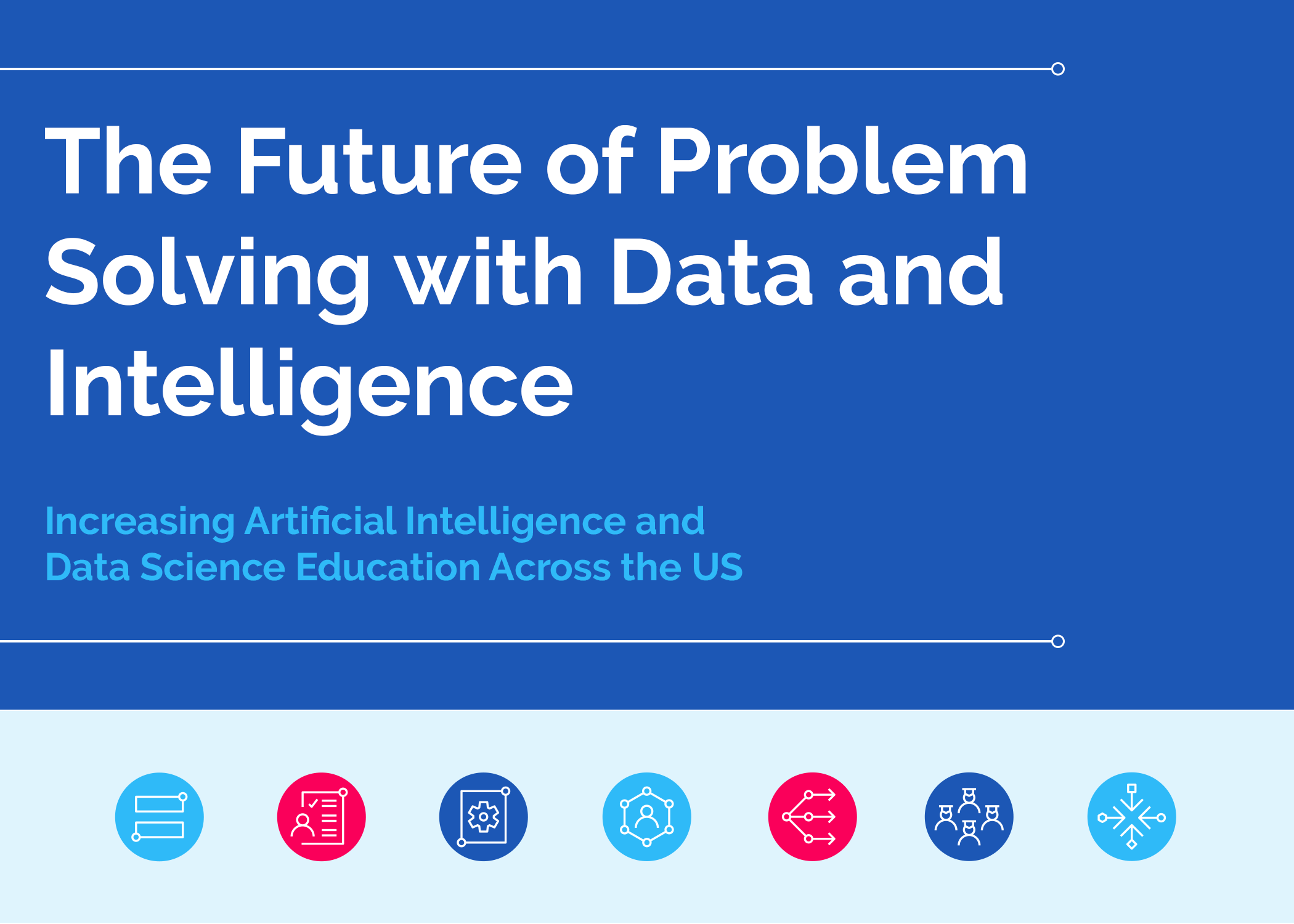 In the Summer of 2021 CSforALL, with support from the National Science Foundation, convened a meeting of leaders, educators, researchers, and policymakers to discuss AI and DS education from primary through graduate school. At this meeting, we presented a challenge to the community: What would it take to double the number of undergraduates pursuing computational-related degrees and to increase the percentages of those degree programs providing fundamentals in AI and DS to all learners?
Central to achieving this goal is ensuring we are not limiting options for students in K-12 to experience fundamental CS education including AI and DS education. Attendees considered the current landscape of efforts, access, and participation gaps experienced by historically marginalized youth and young women, as well as challenges and successes they have observed in their own settings, to come up with key recommendations for policymakers and implementers to achieve the goal. In this report we share details from seven working groups including a definition of each area of focus, area-specific recommendations from the experts, and a high-level synthesis of all recommendations here.
We encourage policymakers, advocates, education leaders, and community members to consider how to ensure CS education is available for all learners in their community, how to best help learners and parents understand choices for postsecondary education and careers, and how to ensure capacity for and instruction in AI and DS are critical components of those academic pathways. We need to ensure our education systems not only provide equitable experiences for students no matter their race, gender, ethnicity, or ZIP code, but also that those experiences are on par with educational pathways from Mumbai, Beijing, Berlin, Copenhagen, and other global communities that are ensuring CS with AI and DS are parts of student's' preparation for college and career.
Recommendations to support AI and DS education:
Build a clear understanding of implementation success and gaps through data and landscaping.
Support infrastructure development that brings technological access and capable devices to rural and disadvantaged communities to close the digital divide.
Support the development or identification of high-quality instructional materials and tools for instruction and practice.
Create guidance for primary through graduate school pathways, including both fundamental big ideas and subject-specific learning.
Invest in updates to career awareness resources, focusing on role-based competencies instead of industry-based activities.
Support continued teacher and faculty development to ensure instructional capacity at all institutions.
Create area-based guidance for educational pathways and the local industries and roles available to pathway completers.
Ensure industry and other stakeholders are engaged in all aspects of the process—at the table, a part of pathways, and as critical contributors to capacity-building efforts.
Funding for the project was provided through grant number 2135878 by the National Science Foundation. Any opinions, findings, or conclusions or recommendations expressed in this material are those of the authors and do not necessarily reflect the views of the National Science Foundation.