What is AlignCS?
AlignCS is provides a curriculum directory for you to search for and identify curricula and programs that fit your needs without needing to first become an expert in CS to find them. In our initial rollout of this tool, site visitors will be able to search for Curricula and Programs using the K-12 CS Framework to filter through them. Finding relevant curriculum for you can go from wading through hundreds of pages of potentially unfamiliar text to knowing you're looking for Grade 5 Data and Analysis content. Watch the AlignCS presentation at our 2019 Summit
Our members who are Content Providers, Service Providers and Out of School providers are able to enter their curriculum to our site through their member profile to prepare for the full launch.
The curriculum directory is now available to all who visit csforall.org. It will works similar to our member directory, except instead of member cards you can search for curricula according to your needs.

The dropdown menus will allow you to search by the K-12 CS Framework.
How do I submit Curricula?
Members who've marked themselves as Content Providers, Service Providers and Out of School providers are able to submit curricula. To get started, access your member profile where you will find a new section that invites you to "add a new curriculum". There you will be able to enter information about your offering for educators and others in the CS Ed community to learn about.

Once you have entered your curriculum info you may check the "publish to directory" box and have it display within the upcoming AlignCS search directory. This will enable your curriculum to appear in text searches within our tool.
How do I get the K-12 CS Framework Aligned badge?
To get your alignment badge you must submit your alignments to the K12 CS Framework through your member account and wait for approval by one of our curriculum reviewers. Once approved you will get the badge, improving ranking in the search, and showing your curriculum in dropdown searches.
In your member account, click into your curriculum and find the "Align Curriculum" button (alternatively you can directly "save and align to standards" when first entering the curriculum). After clicking there, you will be presented with a list of the K12 CS Framework statements according to grade band. You will indicate which parts your curriculum supports by clicking the corresponding checkbox for each framework statement.
Once you've finished and clicked on "Submit for Review" you will be prompted to provide access credentials to your curriculum to be reviewed. These will be used strictly for reviewing purposes only. Please note we require access to actual instructional material and not just outlines, though you may provide outlines as well if you like. You may use the notes box to provide additional information to our reviewers. For example:
If you have alignment charts/documents indicating which parts of your curriculum align to particular framework statements, or even CSTA standards, then linking them in this box would help reviewers agree with your alignment.
If you'd like reviewers to direct concerns directly to you then place your contact email here.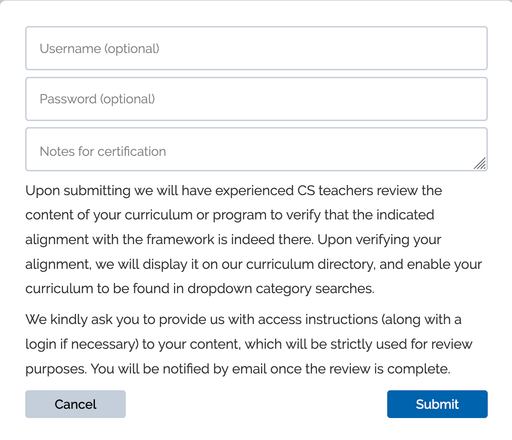 Upon submitting we will have experienced CS teachers review the content of your curriculum or program to verify that the indicated alignment with the framework is indeed there. We will be reviewing submissions on a rolling basis, please allow time for our small review team to get through them. Once we verify your alignment we will notify you and display it in our curriculum directory, and enable your curriculum to be found in dropdown category searches.
If your alignment is rejected, then you can always revise it and re-submit it. We will make feedback available to you if this is the case, email aligncs@csforall.org for support.
Please email us with any questions at aligncs@csforall.org